幢
【chuáng, zhuàng】

(zhuàng) for houses and buildings
(zhuàng) [量]用于房屋

才几年时间,那里就建起了一幢幢高楼。
Numbers of buildings were put up there in just a few years.
撞
【zhuàng】

1. bump; ram; hit 2. run into; meet by accident 3. rash; dash
[动]1、两物相碰 2、无意碰见 3、闯,猛冲或突然直下

笨拙的男孩撞到了桌子。
The clumsy boy bumped into the table.

在街的拐角处,我撞见了我的老同学。
I run into an old classmate at the corner of the street.

公交车失控了,在马路上横冲直撞。
The bus is out of control and is rampaging about wildly.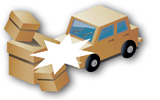 追
【zhuī】

1. chase after; pursue 2. trace; look into 3. court; woo; pursue
[动]1、加快速度赶上 2、事后调查 3、努力达到目的

孩子追着蝴蝶跑。
The children are chasing after the butterflies.

我们要把事情发生的原因追查清楚。
We must look into the cause of the incident.

李教授不追名逐利,潜心做研究。
Professor Li devotes himself to the study and has no desire for personal fame and gain.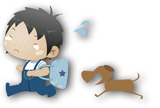 追查
【zhuī chá】

investigate; track down (information); find out
[动]追究查问;事后调查

这起重大安全事故,必须追查责任。
The responsibility for this catastrophic accident must be found out.
追悼
【zhuī dào】

[动]对死者表示沉痛悼念

好几位国际知名人士出席了这位政治家的追悼仪式。
Several international celebrities are present at the statesman's memorial service.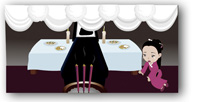 追赶
【zhuī gǎn】

1. hunt; run after; quicken one's pace to catch up 2. pursue
[动]1、加快速度,赶上(前面的人或事物) 2、加快速度赶上前去打击或捉住

看着汽车已经远去,他只好停止了追赶。
Watching the car going away, he had to stop running after it.

警察正在追赶逃脱的窃贼。
The police are pursuing the thieves who have escaped.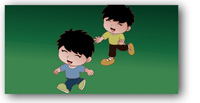 追究
【zhuī jiū】

find out; investigate; look into
[动]追问根由;事后追查推究原因、责任等

火灾的发生,必须依法追究刑事责任。
The criminal liabilities for the fire must be investigated according to the law.
追求
【zhuī qiú】

1. seek; pursue 2. try to win the love of; court
[动]1、竭力寻找或探索 2、特指向异性求爱

企业不能只追求数量,而要追求质量。
Enterprises should seek not only quantity but also quality.

他正在追求那位漂亮的姑娘。
He is trying to win the love of that beautiful girl.
追问
【zhuī wèn】

examine minutely; intensively ask questions in order to fully understand; question closely
[动]追根究底地问;追查

公安人员正在向他追问犯罪同伙的下落。
The police are questioning him closely for the whereabouts of his accomplice.